Time zones
Each country will define its legal time throught a difference to Universal Time. This difference will be chosen in order to keep a daily cycle compatible with life (Sun at noon, sunrise, sunset). In olrder to facilitate the international communications, the difference to the Universal Time should be a whole number of hours. For that purpose, 24 time zones were defined: each country may choose the zone well adapted for it. Its legal time (or standard time) is defined as: UT (universal time) + or - N hours (where N is an integer number). N may change during the year in order to have a standard time and a daylight saving time. Large contries may use sevarl time zones if necessary (for example USA have 7 legal times).
The 24 time zones will imply the existence of a "International date line" at the opposite of the international meridian defining the Universal Time. In fact, starting from the International meridian and going East, the Sun will rise sooner, so for the local time, it is necessary to add one hour, then two hours and so on. Going West, it will be the contrary and it will be necessary to substract hours from the Universal time. When adding 12 hours towards East and substracting 12 hours towards West, we will arrive at the International date line. If we started from the International meridian at 12h, arriving at the International date line it will be 24h if going East and 0h if going West. People at 0h will have the whole day to live since people at 24h will be the next day at 0h. This explains what the date changes where crossing this line. The Universal time staying the same for everybody will help to avoid mistakes.
The distribution of legal hours can be found below according to the time zones on all continents. Note that some areas such as Greenland and Antarctica have no own legal time: Universal Time is therefore used. Note also that all countries have not adopted an offset of a whole number of hours with Universal Time as India adopted 5h 30m. Countries adopting summer time (daylight saving time) add one hour during their summer season.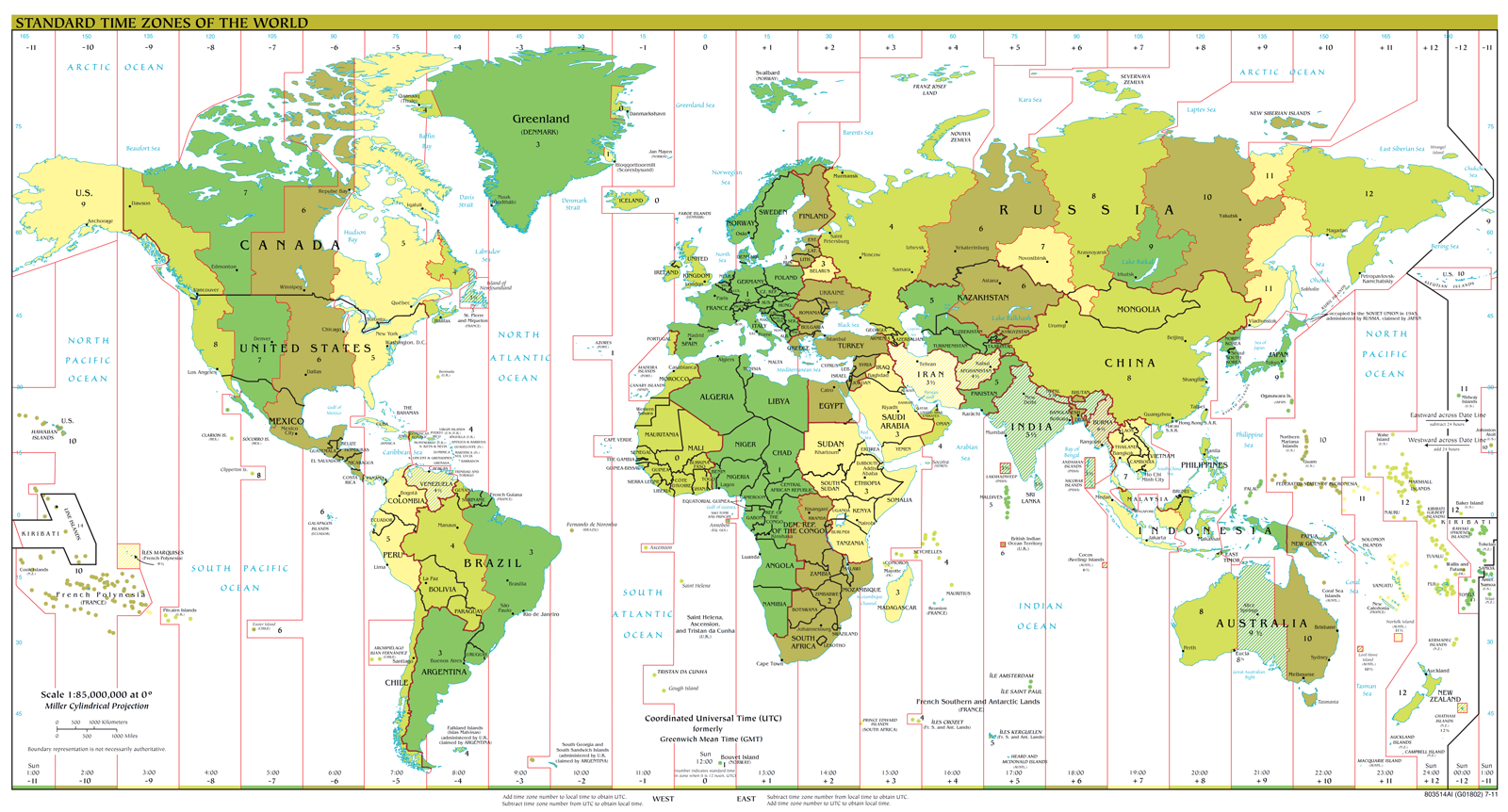 Time zones and offsets for each country
(click on the map to enlarge it).
Credit: USNO
---
Credit : IMCCE/BDL
---
Click here to know the Legal time in France at any date